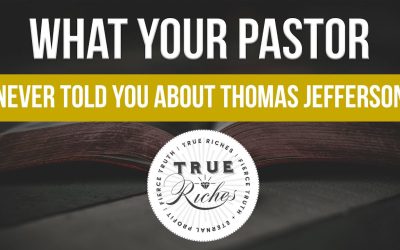 What if Thomas Jefferson, the man who wrote about "God" in America's founding documents, turned out to be someone that you and your church would call a heretic?
What does Christian civil disobedience look like? Learn the answer in this insightful teaching with Jerry Robinson.
While false prophets have plagued the American church since its foundation, it is clear that they have become more pronounced in the age of Trump.
true riches Academy
[ in-depth bible teaching videos ]
about Jerry Robinson
[ Host ]
Jerry Robinson is the founder and executive director of the True Riches Academy, an online training center for Bible-believing Christians. He is also the host of True Riches Radio, a podcast dedicated to challenging believers to think and thinkers to believe. Through the True Riches ministries, Jerry and his team seek to "educate, equip, and empower" followers of Christ through the creation and distribution of educational materials in a variety of formats including: podcasts, video teachings, and e-books.