ACADEMY [ in-depth Bible teaching videos]

Welcome to the True Riches Academy with Jerry Robinson
On this page, you will find many of the video Bible teachings delivered by Jerry Robinson over the last decade. Enjoy the teachings and share them with others!
LATEST FULL-LENGTH LECTURE W/ JERRY ROBINSON
Title: Civil Disobedience and the Bible
Teacher: Jerry Robinson
In this new 45 minute teaching with Bible teacher/researcher Jerry Robinson, you will learn:
– Ten examples of civil disobedience found in the Old and New Testaments
– How Christians are to respond to ungodly government (according to the Bible)
– When it is okay to refuse to obey the government (according to the Bible)
– The one thing that all Biblical examples of civil disobedience have in common (Hint: it is not what you may think)
– What pastors should know — and teach their flock — about the Bible's examples of civil disobedience
– And much more!
VIDEO LESSONS: AMERICA VS THE BIBLE
VIDEO LESSONS: SPIRITUAL DECEPTION
VIDEO LESSONS: LOVE YOUR ENEMIES
VIDEO LESSONS: MONEY AND GOD
Simply click on any of the titles below to access the full video teaching.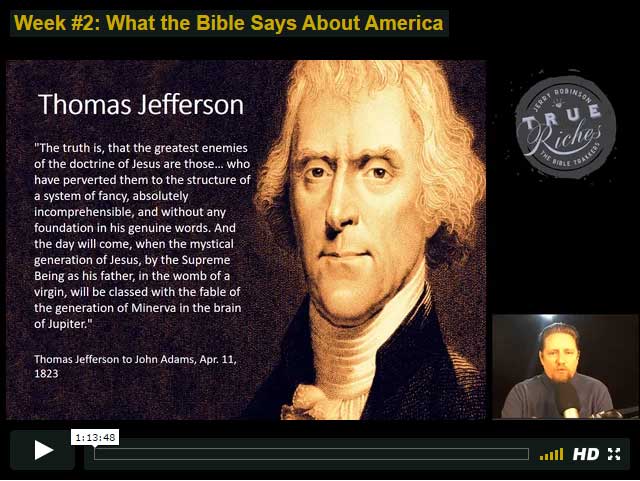 Any historical examination of America's origins, which fails to incorporate its pagan Greco-Roman philosophical heritage, its savage genocide of the native population centers, its dependence upon the subjugation of African slaves, and its violent opposition to, and overthrow of, monotheistic Christian monarchy, are merely myths created to soothe men's conscience.
read more