ACADEMY [ in-depth Bible teaching videos]

Welcome to the True Riches Academy with Jerry Robinson
On this page, you will find many of the video Bible teachings delivered by Jerry Robinson over the last decade. Enjoy the teachings and share them with others!
LATEST FULL-LENGTH LECTURE W/ JERRY ROBINSON
Title: True Riches Live! – Rethink Series #1 (Thomas Jefferson – October 2022)
Teacher: Jerry Robinson
Welcome to our first teaching in our new "Rethink" video series. This month's topic is Thomas Jefferson and the instrumental role that he played in the creation of the American republic. Jefferson is both iconic and enigmatic as an American figure.
In this unique presentation, we will penetrate the myths surrounding Jefferson through the words formed by his own pen.
Prepare to be challenged in your thinking!
And prepare to rethink Thomas Jefferson.
VIDEO LESSONS: AMERICA VS THE BIBLE
VIDEO LESSONS: SPIRITUAL DECEPTION
VIDEO LESSONS: LOVE YOUR ENEMIES
VIDEO LESSONS: MONEY AND GOD
Simply click on any of the titles below to access the full video teaching.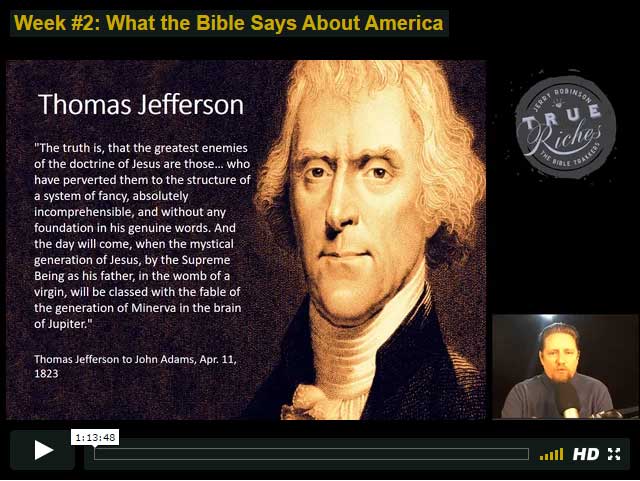 Any historical examination of America's origins, which fails to incorporate its pagan Greco-Roman philosophical heritage, its savage genocide of the native population centers, its dependence upon the subjugation of African slaves, and its violent opposition to, and overthrow of, monotheistic Christian monarchy, are merely myths created to soothe men's conscience.
read more